Navigation:
Home
> New Mexico Archery Elk Hunts
New Mexico Archery Elk Hunts
Our New Mexico archery elk hunts take place in Catron County in southwest New Mexico and Rio Arriba County in north central New Mexico. These areas of New Mexico are producing the top scoring bulls taken year after year in the state. We also conduct a few archery hunts on private ranches throughout the state. All of these hunts take place during the month of September, the bulls are in rut and very vocal this time of year. Over the past 30+ years of hunting elk, I've experienced all aspects of the rut. Weather conditions such as severe drought or the complete opposite, too much rain, or any kind of severe weather can, and will, affect the outcome of the hunt! This is beyond my control. Me and my guides will use different tactics, no matter what the weather is like to make sure you have an exciting and rewarding hunting experience. Shot opportunity has varied from year to year ranging from 50% to 100%.
---
Elk Hunting Methods
Archery elk hunts provide the opportunity to employ a variety of hunting methods ranging from spot and stalk, to calling in screaming bulls and using ground blinds set up over water holes, wallows, and trails just to mention a few.
---
Dates & Rates
Archery elk hunts take place in September.
$5,500 6-day hunt 2 on 1 guide service
$6,500 8-day hunt 2 on 1 guide service

$7,500 10-day hunt 2 on 1 guide service
Hunts may be upgraded to 1 on 1 for an additional charge.
Prices do not include state license fees.
---
How to Secure Your Elk Hunt
Application Service
H&A Outfitters makes it easy to hunt elk in New Mexico with our free application service. Since 1992 we've been helping hunters just like you apply for and draw tags in New Mexico's best hunting areas. Learn more about the H&A Outfitters application service.
Deposit
The deposit required to secure this muzzleloader hunt is $500. For your convenience, you can pay your hunt deposit, securely, online.
---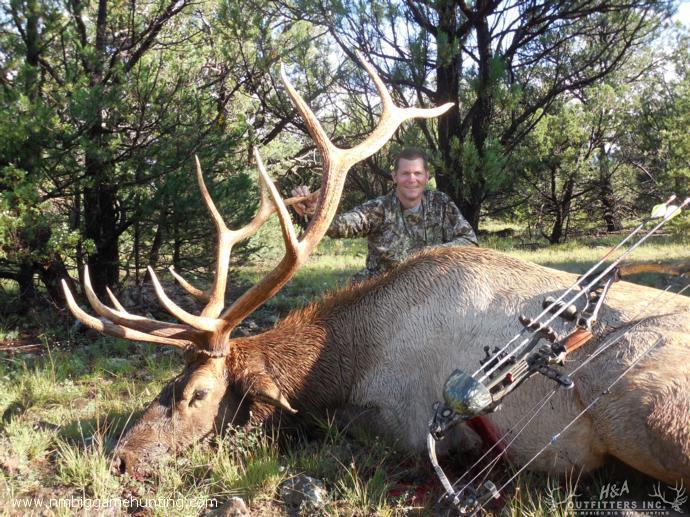 Elk Hunting References & Past Hunts
Here's a few archery elk hunting references.
Mark Rickmeyer, MO (314) 369-4368
Archery Elk Hunt - Result, Successful (View Hunt)
Mark Raddish, WV (304) 641-6909
Archery Elk Hunt - Result, Successful (View Hunt)
Joe Lista, NJ (732) 580-6880
Archery Elk Hunt - Result, Successful (View Hunt)

References - View all on our references page
Past Hunts - View our elk hunting photo gallery
---
Why H&A Outfitters, Inc?
New Mexico veteran outfitter with a solid reputation.
Fully licensed and insured full-time outfitter.
Conducting professional big game hunts since 1992.
Long time member of the New Mexico Council of Outfitters and Guides(NMCOG).
Professional guides (top-notch).
Free license application service! Read more about our application service.
Hundreds of client references. Read more
We offer a wide range of big game hunting opportunities.
H&A Outfitters, Inc. is an equal opportunity provider permitted through the USDA Forest Service and Bureau of Land Management and is licensed through the New Mexico Department of Game and Fish.
H&A Outfitters, Inc. has an A+ rating with the New Mexico Better Business Bureau.
---
Contact Us
H&A Outfitters, Inc. has been guiding hunters and specializing in professional New Mexico Archery Elk Hunts since 1992. My reference list of both successful and unsuccessful references will speak for itself. Hopefully I have the opportunity to meet you at one of our camps. Call (505) 474-6959 or email us to request information on our archery elk hunts. Your success is my success!
Sincerely,
Andrew Salgado
H&A Outfitters, Inc.
Outfitter/Guide/Owner