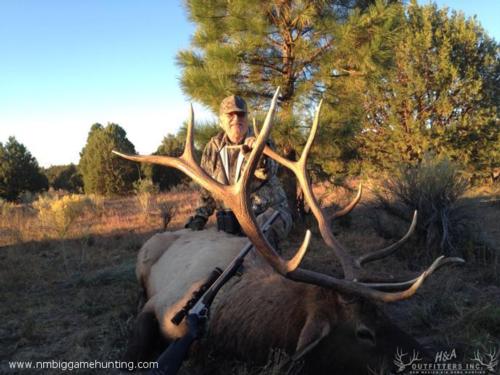 H&A Outfitters, Inc. just conducted our last New Mexico bull elk hunt of the season and once again for the 5th year in a row this late season bull elk hunt was 100% + shooting opportunity! This year we had 7 elk hunters and 6 of them took home mature bulls and one of the hunters who chose to purchase a mountain lion tag, took home a tom lion. It was an awesome 4 ½ days of hunting bull elk in Northern New Mexico once again! We did have one mishap and unfortunately had to call Game and Fish and they most definitely handled it in a professional and fair manner to my surprise! Not only at this camp, but also on one of my Southwest camps, they were more than fair with my clients and I do appreciate it!
The total count of bull elk hunters H&A Outfitters, Inc. guided this past season was 27. Through the eyes of the guides we should have harvested 25 bulls but we did manage to harvest 17 out of 27.
This is the breakdown:
Archery Hunts - 12 archery hunters 6 kills, 1 wound and several opportunities. Only 2 archery hunters, unfortunately, did not have an opportunity to release an arrow, but they had some close encounters during their hunt.
Muzzleloader Hunts - 6 muzzleloader hunters, 4 kills and 100% opportunity.
Rifle Hunts - 9 rifle hunters, 7 kills and 100% opportunity.
We don't claim to be the biggest outfitting company in New Mexico, but we are the most deadly in New Mexico! To us it's not about the number of clients we take out in the field, it's about the number of trophies we take out of the field and providing a professional quality experience for our clients. So if you are ready to join us on a New Mexico hunt, give us a call and let our 25 years of experience go to work for you! (505-474-6959)
That's it for now! Til next time!
Adios,
Andy
Posted in: All News, Elk Hunting