New Mexico Guided Mountain Lion Hunting
The hounds are what make your hunt a success and also the guides' knowledge of the mountain lion and the country they live in. I run a very high success rate on large tom lions every year. I book a limited number of mountain lion hunters per year to keep the quality and high success of my mountain lion hunts. All mountain lion hunts are 2 guides 1 hunter guide service. Myself and my son Drew guide the majority of the mountain lion hunts ourselves with my own pack of hounds that are second to none in the industry. On occasion I will hire only the best houndsmen / guides possible in the area to assist on these hunts.
Our mountain lion hunts take place throughout New Mexico on both public lands and large private ranches from November through January. Elevations range from 6,000 feet to 10,000 feet. We prefer to book these hunts on an on-call basis as this will ensure good conditions during the hunt. If a date must be set, it should be either in December or January. Conditions are usually good during these two winter months. We average an 90% - 100% success rate on our lion hunts every year.
Get A Taste of the Hunt
The elusive mountain lion, cougar, puma, or catamount, whichever you like to call it. He is the top predator of the mountain. A mature tom lion can, and will, kill and eat whatever he wants. Come along and watch our dogs tree several of these extreme predators. It's sure to get your adrenaline pumping! Watch as Dr. Mark Rickmeyer harvests a B & C lion. This lion lived in the Valles Caldera most of its life and made the mistake of leaving it onto huntable land. No trophy room is complete until you add one of these beasts to it! We have limited availability, so make sure to email us on availability to reserve your extreme lion hunt with H&A Outfitters, Inc.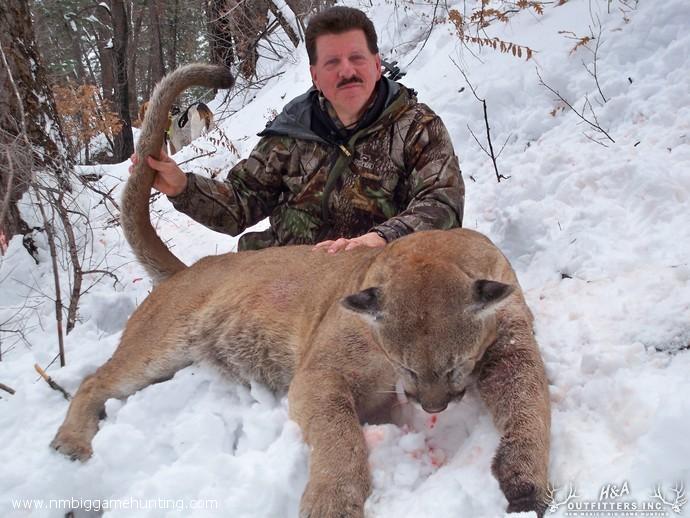 Mountain Lion Hunts
Mountain Lion Hunting Methods and Success
Covering many miles of proven ground on either 4 x 4 trucks, ATVs, snowmobiles, on foot or horseback. We call this method cutting tracks. This hunt isn't for everyone. It's physically demanding on the guides, the dogs, the hunters and the equipment. Mountain lion inhabit some of New Mexico's roughest country so physical preparation is a must. Bring your bow, rifle or pistol for your mountain lion hunt or don't bring anything, we have you covered with the perfect firearm for the job, Winchester Lever Action 30/30. Our success averages 90% to 100% annually.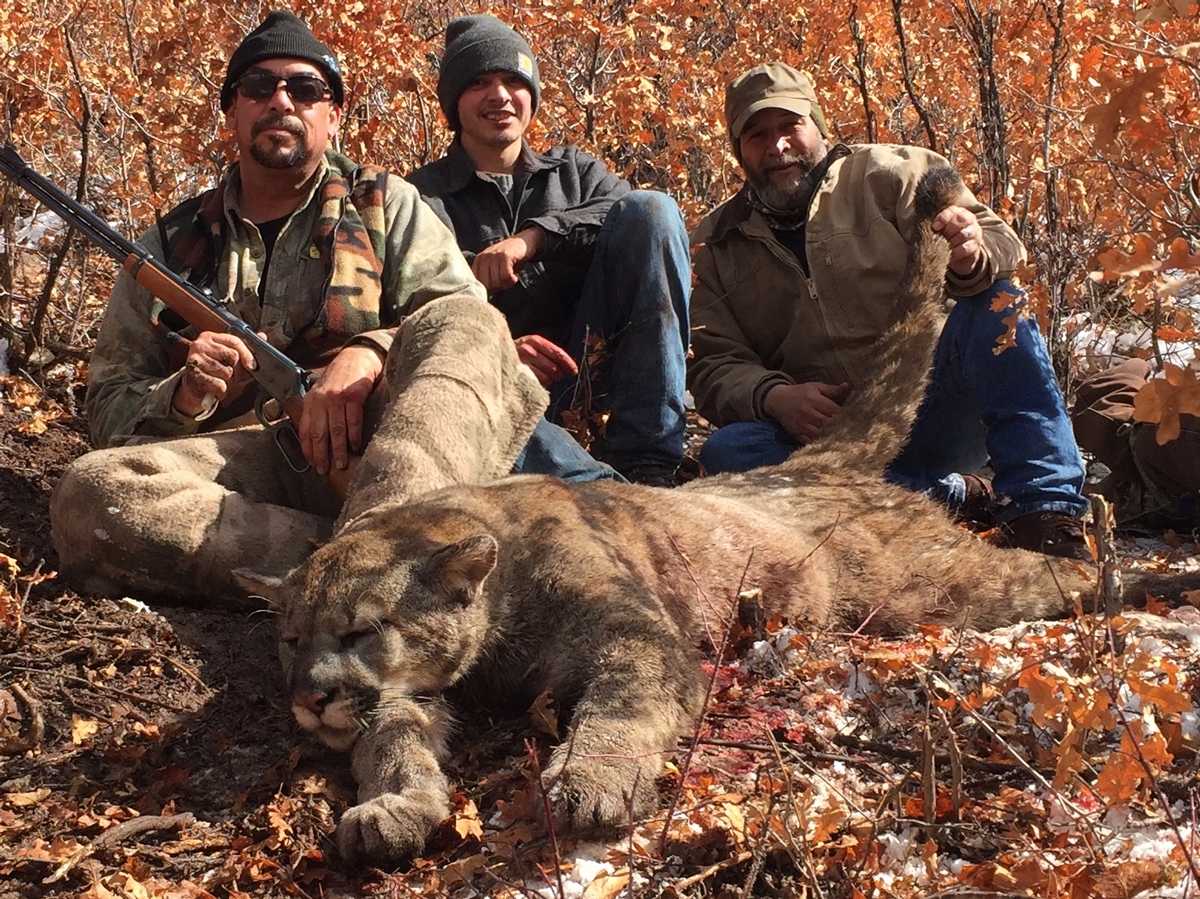 Dates & Rates
Mountain Lion hunts take place from November through January these are five day hunts. ($7,000 per hunter ) 50% booking, balance is due upon harvest.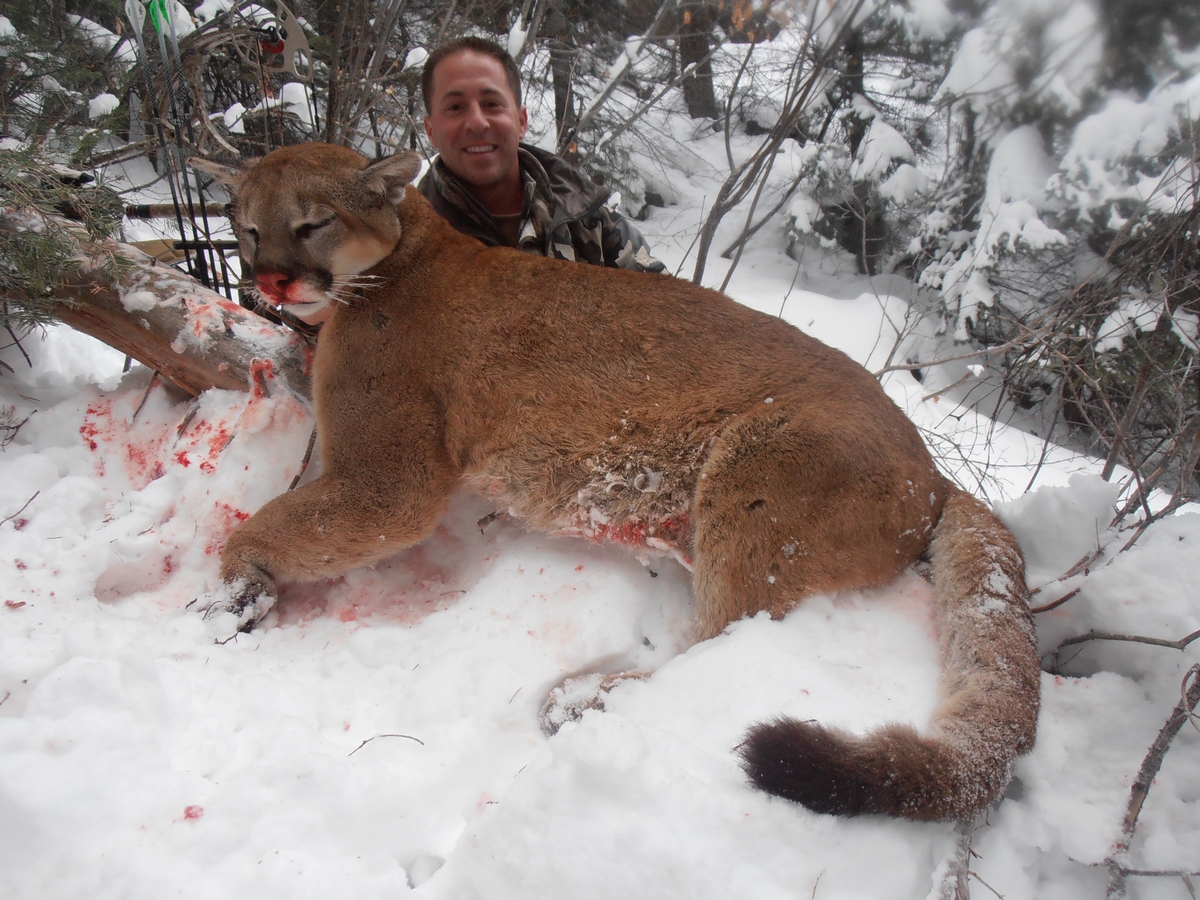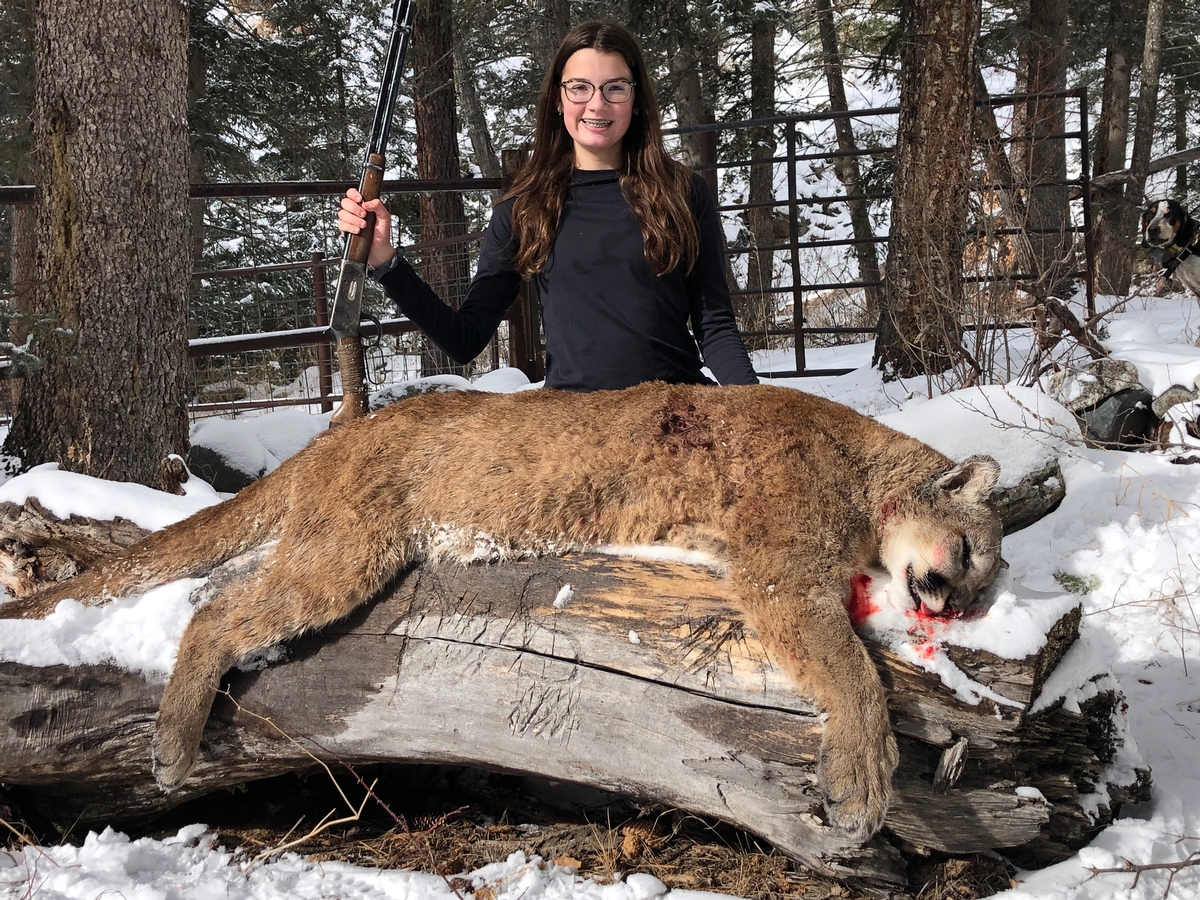 Youth Mountain Lion Hunts
Our youth mountain lion hunts are conducted throughout Northern New Mexico. These hunts are fully guided 1 x 1 guide service. Bring your daughter or son on a great cougar hunt with H&A Outfitters.
Read more about our youth hunting.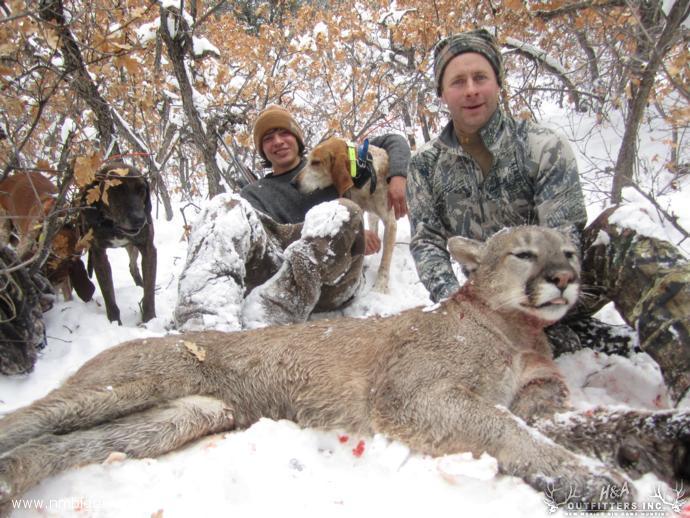 References & Past Hunts
Brendan McClelland, PA (412) 292-5393
Archery Cougar Hunt - Successful
Mark Rickmeyer, MO (314) 369-4368
Pistol Cougar Hunt - Successful
Walt Janke, WI (920) 470-6444
Pistol Cougar Hunt - Successful
Justin Ragazzine, OH (330) 518-9552
Bow Cougar Hunt - Successful
References - View all on our references page
Past Hunts - View our mountain lion hunting photo gallery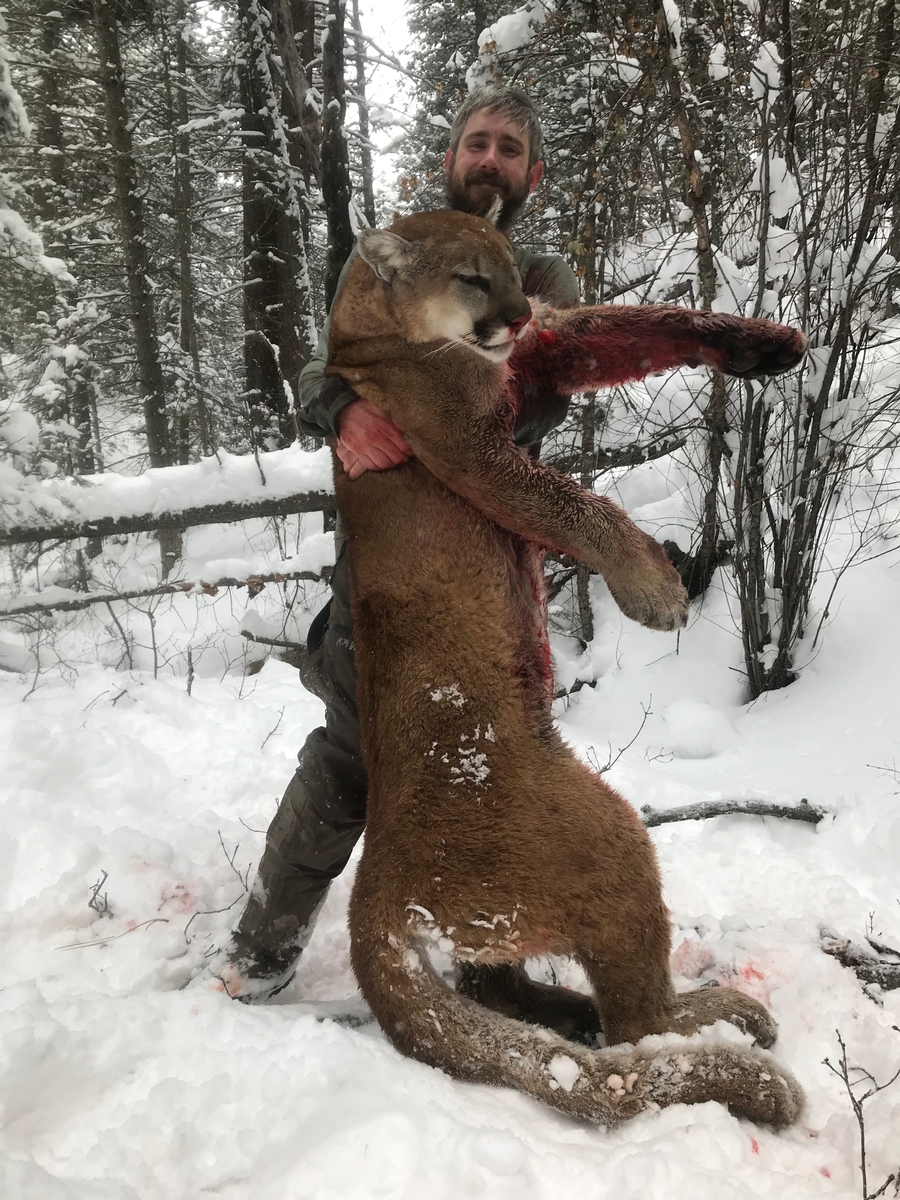 Why H&A Outfitters, Inc?
New Mexico veteran outfitter with a solid reputation.
Fully licensed and insured full-time outfitter.
Conducting professional big game hunts since 1992.
Long time member of the New Mexico Council of Outfitters and Guides(NMCOG).
Professional guides (top-notch).
License application service! Read more about our application service.
Hundreds of client references. Read more
We offer a wide range of big game hunting opportunities.
H&A Outfitters, Inc. is an equal opportunity provider permitted through the USDA Forest Service and Bureau of Land Management and is licensed through the New Mexico Department of Game and Fish.
H&A Outfitters, Inc. has an A+ rating with the New Mexico Better Business Bureau.
Contact Us
H&A Outfitters, Inc. has been guiding hunters and specializing in professional New Mexico Mountain Lion Hunts since 1992. My reference list of both successful and unsuccessful references will speak for itself. Hopefully I have the opportunity to meet you at one of our camps. Call (505) 474-6959 or email us to request information on our mountain lion hunts. Your success is my success!
Sincerely,
Andrew Salgado
H&A Outfitters, Inc.
Outfitter/Guide/Owner