Navigation:
Home
> H&A Outfitters - New Mexico Hunting Blog
H&A Outfitters - New Mexico Hunting Blog
A New Mexico hunting blog by H&A Outfitters featuring: elk hunts, mule deer hunts, mountain lion hunts, antelope hunts, black bear hunts, application dates, extra leases and H&A news.
February 02, 2018 by Andy Salgado
Well the 2017 hunting season is in the books! You can hunt some of the best elk spots on the planet and there are a few things that can affect the outcome, but there is one thing we cannot control and that is Mother Nature! So anyway, it seems to me that the bulls started rutting in mid-August and, for the most part, it was over by October, which made rifle and muzzle loader hunts somewhat difficult. The total number of elk hunters we had at our camps was 36 and we harvested 22 bulls. 14 elk hunters did not harvest. 4 of the 14 missed, 8 of them turned down bulls they would have been very happy to kill on the last day and then 2 of them wounded bulls and one of the bulls was never recovered.
More...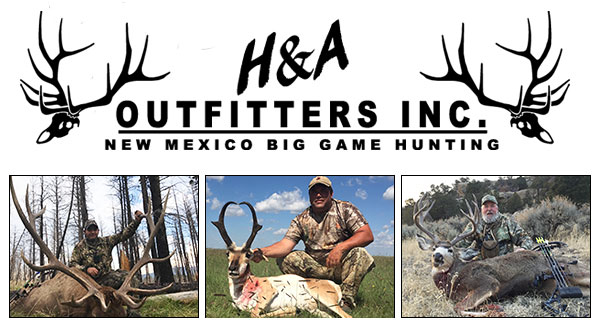 Get Connected
Blog Categories