New Mexico Guided Bighorn Sheep Hunts
H&A Outfitters, Inc. offers professional world class New Mexico Rocky Mountain and Desert Bighorn Sheep hunts with professional sheep guides. We strive to harvest the biggest and oldest Rams on the mountain. New Mexico has built a tremendous reputation for producing trophy class Rams both Desert and Rockies. These highly coveted tags are obtained through the state lottery draw or Governor tag or raffle tag. H&A Outfitters, Inc. will assist you in the application process also increasing your draw odds by utilizing the outfitter draw pool. Our trophy New Mexico wilderness Rocky Mountain Bighorn Sheep hunts take place in these wild places: Wheeler Peak Wildnerness, Pecos Wildnerness, Latir Wilderness. We also hunt Rocky Mountain Sheep in the San Francisco Turkey Creek Mountain Range and the Rio Grande Gorge Mountain Range. Our New Mexico Desert Bighorn Sheep hunts take place in the Peloncillos, Hatchets, Caballos, Ladrones, the San Andreas, and the Fra Cristobal Mountain Ranges. All of our Bighorn Sheep hunts are fully guided and outfitted, 2 or more guides per 1 hunter. Why hunt with the rest when you can hunt with the best?!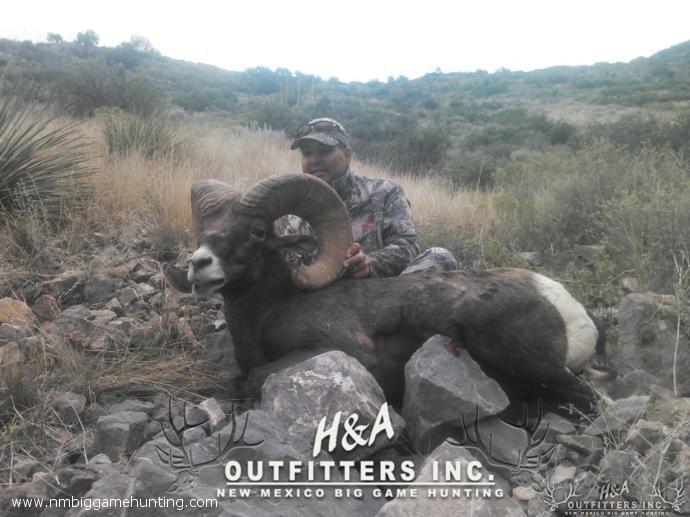 Bighorn Sheep Hunting Methods and Success
Pre-season scouting. This is crucial to harvesting the best Ram possible. Bighorn sheep hunting is a true spot and stalk adventure that involves hours of glassing and covering proven ground on horseback and foot. We are 100% successful on all sheep hunts to date.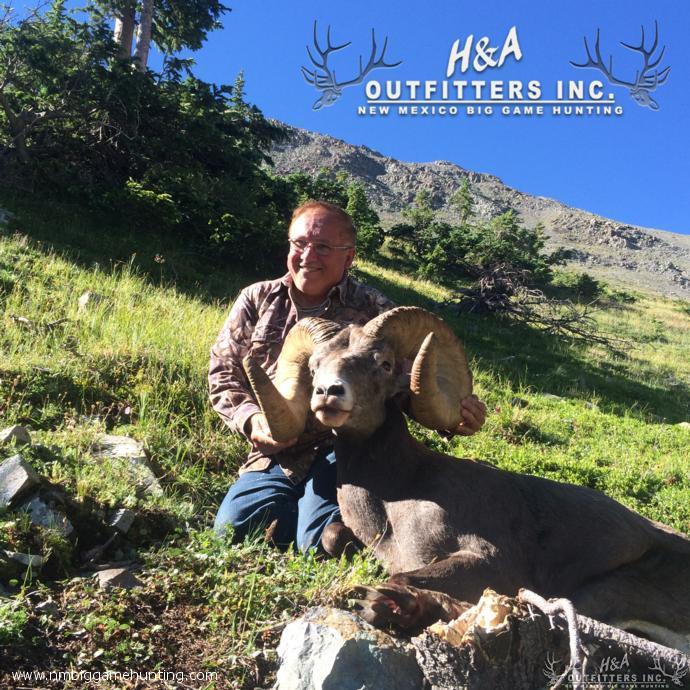 New Mexico Sheep Dates and Rates
All Inclusive Bighorn Sheep Packages
Pecos Wildneress: 2 hunts mid-August through early September
Wheeler Peak Wilderness: 2 hunts Late August thru mid-September
Latir Wilderness: 2 hunts Early August thru late August
All 3 hunts are fully guided and outfitted. 3 days scouting, 7 days hunting. Price is $8,000. Additional days can be added at $800 per day.
Rio Grande Gorge Mountain Range: 7 day hunt Price is $7,000
San Francisco Turkey Creek Mountain Range: 7 day hunt Price is $7,000
All Desert Bighorn Sheep hunts are 7 days Price is $7,000
Prices include 8.5% state gross receipts tax, 3% forest service tax, 3% BLM tax
How to Draw a Big Horn Sheep Tag in NM
Is it difficult to draw a Bighorn Sheep tag in New Mexico?
Application Service
H&A Outfitters makes it easy to try and draw, and hunt bighorn sheep in New Mexico with our application service. All deposits and fees are waived on our bighorn sheep application service until we have successfully drawn a sheep tag on your behalf. Since 1992 we've been helping hunters just like you apply for and draw tags in New Mexico's best hunting areas. Learn more about the H&A Outfitters application service.
Note:
New Mexico allows us to apply for three Rocky Mountain Bighorn Sheep choices as well as three Desert Bighorn Sheep choices all on one application. Best odds in all Western states for sheep.
Youth Bighorn Sheep Hunts
Discounted New Mexico Bighorn Sheep Hunts for our Youth Hunters
H&A Outfitters, Inc. is proud to promote youth hunts on every hunt we offer. Sheep hunts are no exception. We will subtract $1,000 off any of our sheep hunts. If a youth hunter is lucky enough to draw a tag, it will not be considered their once-in-a-lifetime tag! They can re-apply as an adult!.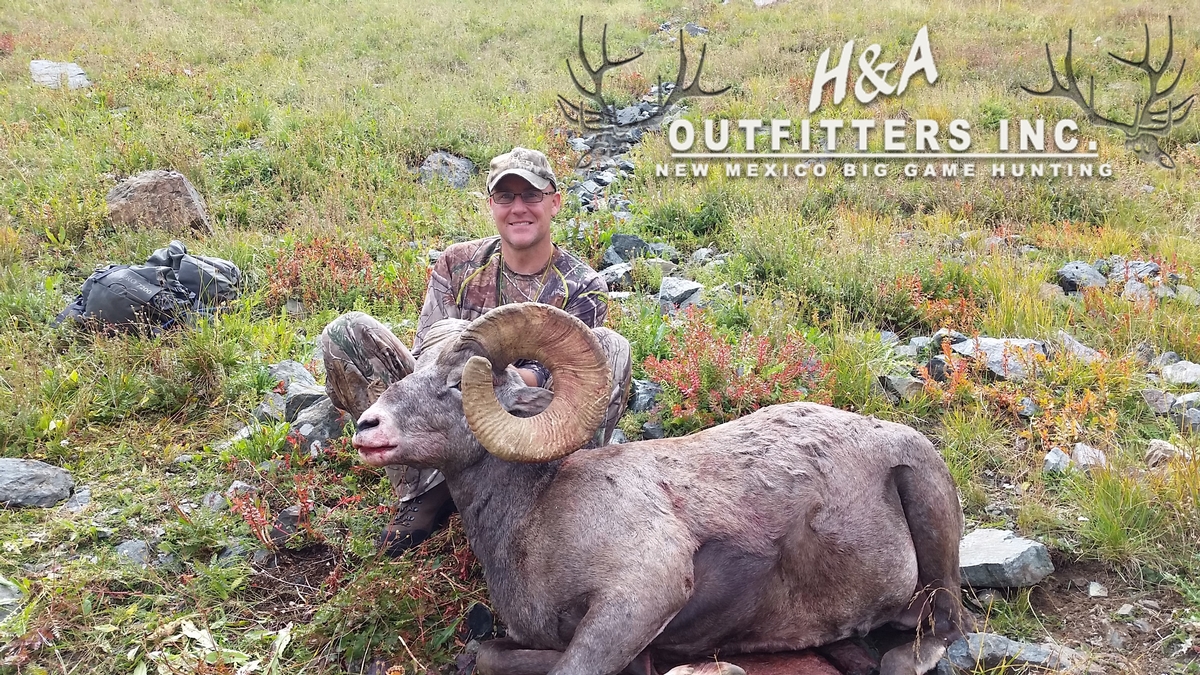 Bighorn Sheep References & Past Hunts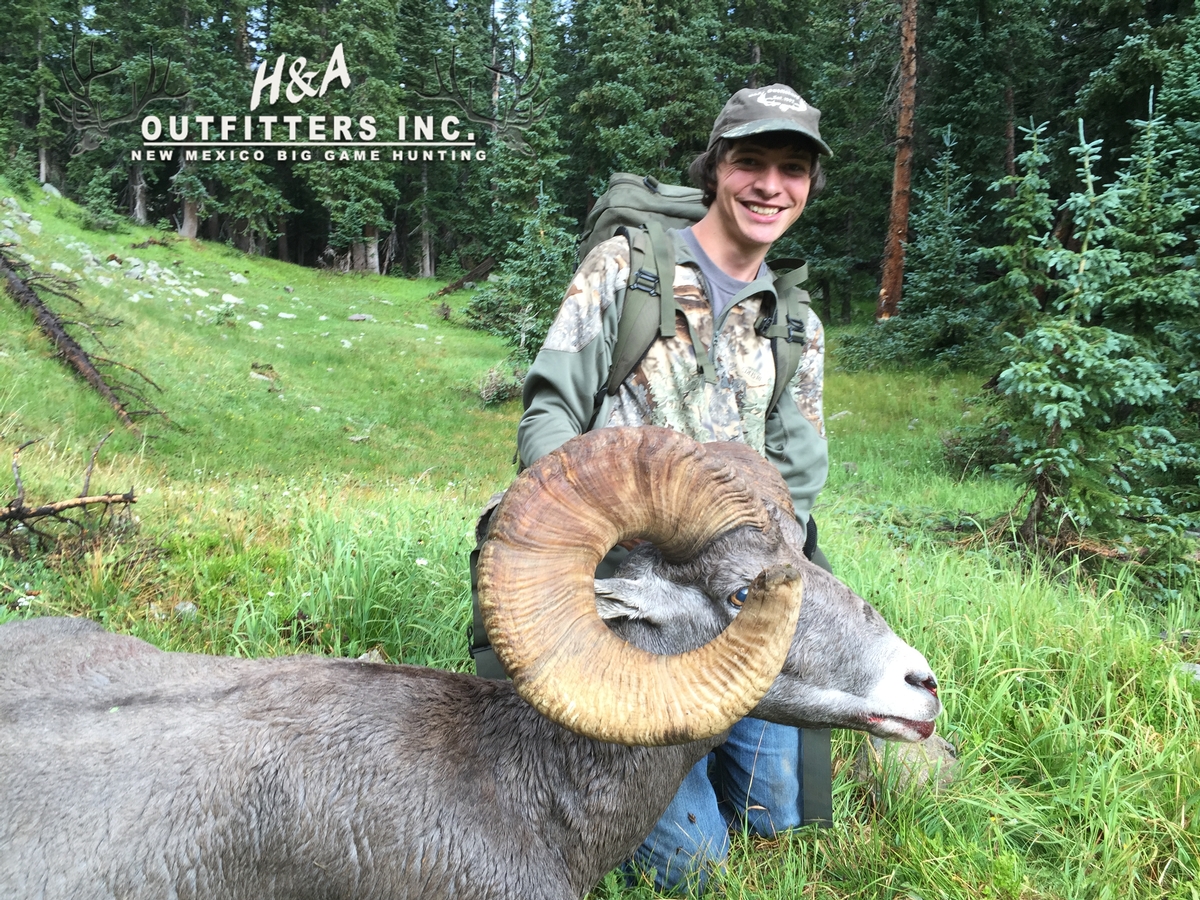 Why H&A Outfitters, Inc?
New Mexico veteran outfitter with a solid reputation.
Fully licensed and insured full-time outfitter.
Conducting professional big game hunts since 1992.
Long time member of the New Mexico Council of Outfitters and Guides(NMCOG).
Professional guides (top-notch).
License application service! Read more about our application service.
Hundreds of client references. Read more
We offer a wide range of big game hunting opportunities.
H&A Outfitters, Inc. is an equal opportunity provider permitted through the USDA Forest Service and Bureau of Land Management and is licensed through the New Mexico Department of Game and Fish.
H&A Outfitters, Inc. has an A+ rating with the New Mexico Better Business Bureau.
Contact Us
H&A Outfitters, Inc. has been guiding hunters and specializing in professional New Mexico Bighorn Sheep Hunts since 1992. My reference list of both successful and unsuccessful references will speak for itself. Hopefully I have the opportunity to meet you at one of our camps. Call (505) 474-6959 or email us to request information on our bighorn sheep hunts. Your success is my success!
Sincerely,
Andrew Salgado
H&A Outfitters, Inc.
Outfitter/Guide/Owner