Navigation:
Home
> Testimonials
Testimonials
New Mexico Hunting Testimonials from H&A Outfitters.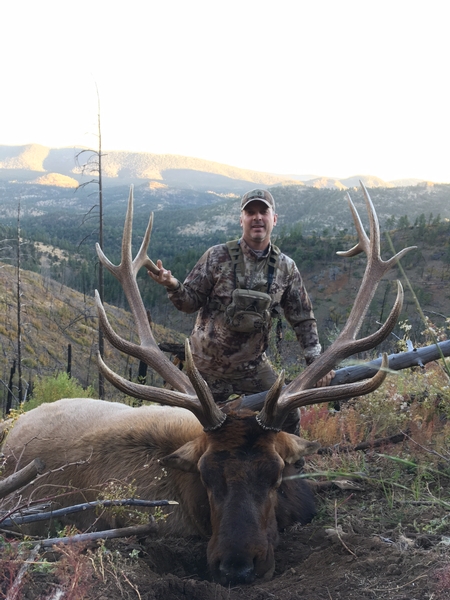 tanner shugart
2017 - dalhart,TX
I had never used an outfitter before and I was worried how I would like having someone guide me. After talking with Andy I decided to give them a try...WOW WAS I SUPRISED!!! Turned out to be the best Elk hunt I have had to date. The food was great as well as the conversation. I tagged out on the second day, with the biggest elk for me to date. I can't express how good the hunt was all around but I can say that the guides know the land and where to go. If I ever go an another guided hunt I will definitely be using H&A again. THANKS AGAIN GUYS FOR THE GREAT HUNT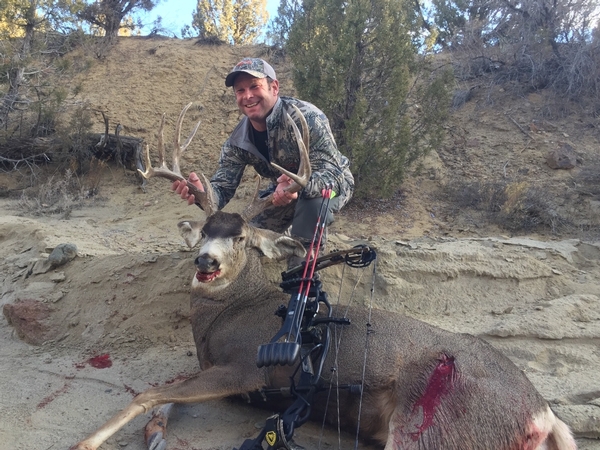 Brendan McClelland
My hunting partner Mike and myself just wrapped up a successful archery mule deer hunt with H&A outfitters. The weather was a beautiful 55 degrees everyday, not favorable hunting conditions. Out of three of us at camp we managed to harvest 2 great bucks. Although I was not successful in the hunt I had another memorable experience. This was my third hunt with H&A and for sure not my last. H&A is a true family run business. The owner Andy is a very experienced guide with a straight forward approach. His wife Vicky handles the paperwork with diligent effort. And their son Drew (my guide) is a true woodsman. It is very apparent that he paid attention to what Andy taught him. He's an expert tracker being able to read any animal track and his young eyes miss no animal. If your considering a western hunting experience there's only one choice that's H&A outfitters give them a call you won't be disappointed!
Brendan McClelland
Pittsburgh Pennsylvania
Brendan McClelland
Andy, Vicki and Drew,
Once again it was an honor and a privilege for me to come hunt with H&A outfitters. Drew put a magnificent world class elk 18 yards in front of me 2 1/2 hours into my first hunt. After a split second decision on shot placement , I released what I was certain was a lethal shot. Needless to say the bull of a lifetime slipped away never to be found again. When Andy and Chris arrived at camp the trio put on a heck of an elk calling show and called in a 320 bull 25 yards in front of me. He busted me drawing, ran, they stopped him at 54 yards . However I lost my nerve and did not want to injure another bull so I did not shoot. These guys are aggressive hunters and do everything to create opportunities for their clients. The food was excellent, exactly what you dream about an elk camp. Thank you all for helping an Eastern hunter fulfill his western big game hunting dreams!
Brendan McClelland
Pittsburgh PA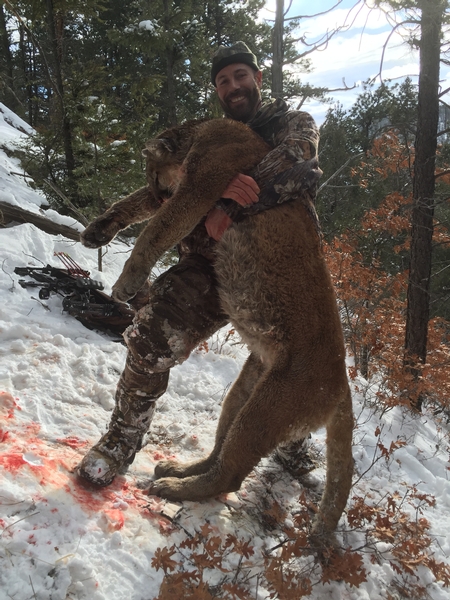 Brendan McClelland
Andy, Vicki, Drew, the hounds Kate, Ugly, Izzy, and Flex,
Once again I would like to express my gratitude for a successful adventure with H&A Outfitters, Inc.! I will definitely be returning for future hunts. The amount of diligence and determination put forth by the entire team equaled success paralleled with an experience beyond my imagination. Overcoming less than favorable weather conditions and equipment failure due to rugged terrain, H&A Outfitters overcame every obstacle that got in our way to provide me with a successful cougar hunt.
Brendan McClelland (412) 292-5393
David Baller
Since 2005 - San Antonio,TX
Andy, I would like everybody to know how much I have enjoyed hunting with you for all these years. It has not always been easy but one thing for sure the guys are always busting their ass for us. We have hunted three ways with you Bow,Muzzle and Rifle and I have two bulls and could have taken more. Thanks for being a great guide and becoming a good friend. I look forward to this year again. Thanks, David
David Baller
(210) 218-8534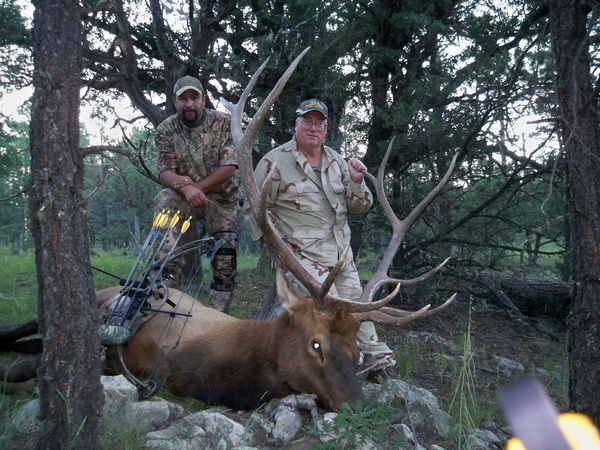 Steve Eason
Andy
Being new to New Mexico, not having hunted here before, I did a fair amount of 'scouting' to find an outfitter. What struck me about H & A Outfitters was the honesty and integrity – it came through in each communication. Our early assessments were only reinforced when we got to camp. Our first time out bow hunting, my son shot a 7 x 6 bull and I shot a 6 X 6 (331 Pope & Young) on the very first day of the hunt! Guides were very knowledgeable of the area and highly skilled. Watching them call in large bulls to within 20 yards – priceless.
Vicki, you did a great job with this hunt for my son and I. Appreciate your diligence and prompt responses to all of our questions. My wife bought a little plaque a number of years ago (we've been married now 33) that read "Behind every great man is a great woman". We've grown to know now how integral you are to the success of H&A. Thanks!
Steve Eason
(505) 286-0277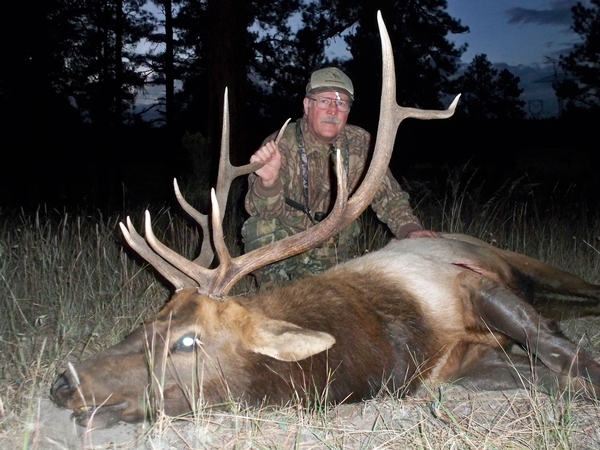 Ray Schulte
I first started hunting with Andrew and his brother Herb in 1992, I was in H&A's first bow hunting camp. Since that time I have kept coming back to H&A Outfitters for archery, muzzleloader, and rifle elk hunts. Andrew and his crew always work hard to make their clients' hunting experiences successful and enjoyable. Fall 2010 was another great hunt for me, in southwest New Mexico's Unit 15, for muzzleloader elk. I experienced the breathtaking scenery of the area; I got a chance to see ancient Indian petroglyphs carved on rock, which Andrew had discovered earlier; I had a great time experiencing the wildlife of New Mexico; and I bagged a nice 5 X 5 bull. Thanks for all the great hunting memories, Andy.
Ray Schulte
(443) 610-1740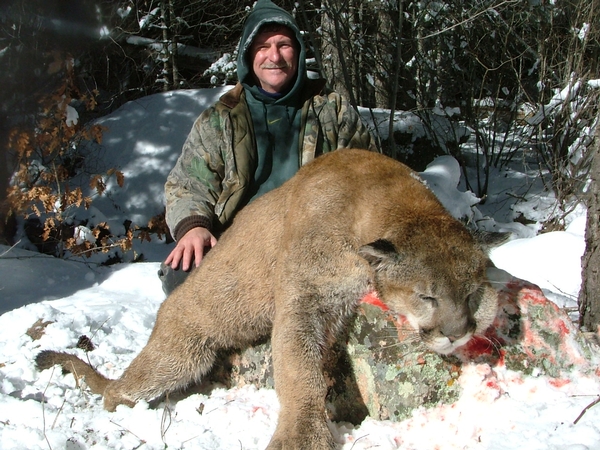 Jerry Hanks
Dear Andy,
I just wanted to thank you for another successful hunt with H & A Outfitters, Inc. My first hunt with your guide service, and my all time favorite, resulted in the harvesting of a B&C class mountain lion. I still enjoy telling the story of "Scarface" around the camp fire during hunting season.
My second hunt with H & A resulted in the harvesting of a nice 6x6 bull elk. Your guides were very familiar with the unit we were hunting in and provided me with a memorable and successful hunt. I have hunted with outfitters in New Mexico, Texas, Colorado, Utah, Montana and Canada and can honestly say that H&A is one of the best outfitters I have experienced.
Your "License Application Service" takes all of the hassles out of applying for a tag. Can't wait to draw another elk tag and experience another hunt in New Mexico.
Jerry Hanks
Houston, Texas
713-851-4577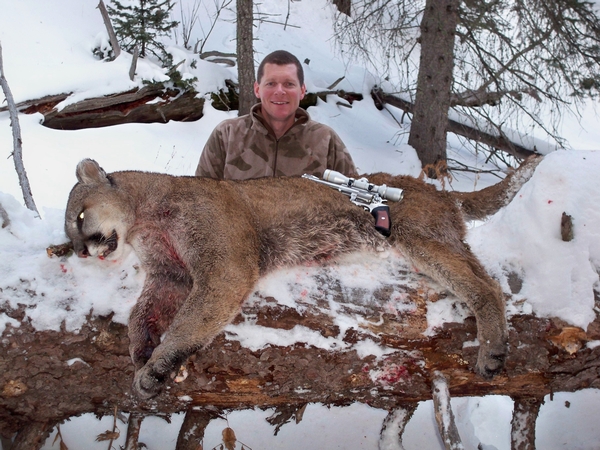 Dr. Mark Rickmeyer
Dear Andy, I wanted to express my sincere gratitude to you for providing me with memories that will be relived for a lifetime. The mountain lion hunt we experienced was truly world-class. Even after a tough 9-day hunt which left me "cat-less" in 2008, I knew I had chosen the right outfitter, and did not hesitate to return. Your persistence and inability to give up are attributes that only the best guides possess. Your knowledge and instincts are uncanny, proving many years as a student in the wild. I am forever indebted to you for providing me with such experience and friendship, not to mention the beastly lion known as "the half-tailed Monster from the Jemez." From the standpoint of a professional hunter and client, H & A Outfitters is a first-class organization with whom I hope to hunt again. The hospitality that you and your family extended to me are much appreciated.
Your Friend, Dr. Mark Rickmeyer
(314) 369-4368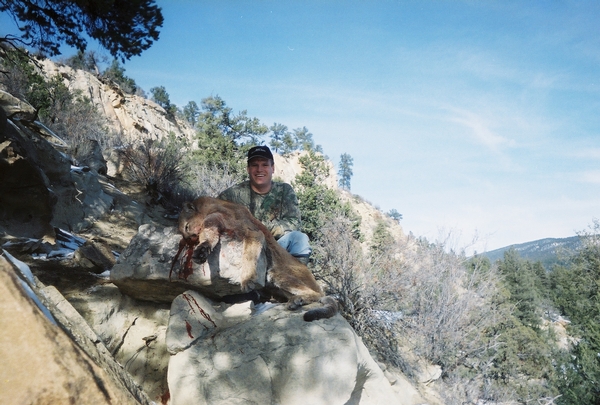 Joe Frank
Andy (H & A Outfitters),
I want to express my gratitude to your outfit for the effort you put forth on my recent elk hunt. The food, the accommodations and the good times in camp were outstanding. The opportunities to bag a bull elk were incredible. When I come to realize that a bow is "a little" less powerful than a bazooka, I'll get my elk. I still picture "the beast" and my bad shot placement. It will haunt me until I ultimately get my trophy elk. Thanks again for a great time!
Joe Frank
(410) 804-4777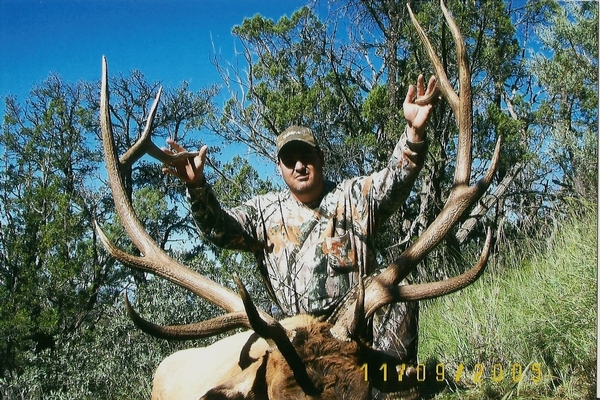 Robert Huston
Dear Andy,
Thanks to you and your team for a great Elk hunt. I had a great time and learned a lot. Everyone was great and the experience was unforgettable. I had the bull scored at the taxidermist and he made it to the 320 inch mark that I asked you for. He measured 324 and 1/8 (not bad for my first bull with a bow). This next part is going to sting for me a little but I think it is important for your future clients to know.
When I originally booked this hunt with you I gave you the wrong hunting unit. The day before the hunt I gathered my license only to find out my mistake. I immediately gave you a call and was preparing for the worst. I was amazed and relieved that you took the hunt on and were willing to find me a bull. I knew that there had been many days in the field scouting the wrong area and my chances in a new area would be lower.
After driving all night to get to the right hunting unit we only missed the morning hunt. That evening hunt I found myself about 150 yards from a 400 class bull with 30 cows in tow. Even though we lost him to darkness without nocking an arrow, his response to the calls and watching him tear up a juniper tree was an experience of a lifetime in itself.
We would see him once again in the morning and again the next night but the wind wasn't right for either setup, so the decision was made not to pressure him and hunt in a different area the next day.
The next morning at 6:30 a.m. we reached a high saddle and after the first cow call a bull screamed and was on his way in. By 6:50 Eric and Raul had a bull within 35 yards and two more on the way. I took the shot broadside at 35 yards and listened to him crash through the forest.
Two hours later we started to track him. His blood trail went cold about 1/2 mile in and my hopes weren't high of finding him. If it hadn't been for Eric and Raul I am not sure I could have tracked him. We found him about a mile from where I shot him. Eric scored him almost perfect; he said he would measure 320".
It is not easy to find elk in the thick cover of New Mexico, I should know . I am a lifetime resident and have hunted since I was 14 years old. To hunt an area that had not been scouted by anybody in the hunting party and to be in bull elk every day was just amazing to me. I learned a lot on this trip and would not have changed the way it turned out at all. I got a chance to look behind the scenes of a guided hunt and saw all the hard work that goes into finding elk. I look forward to drawing another tag and hunting with your team again.
Sincerely,
Robert Huston
(505) 496-3031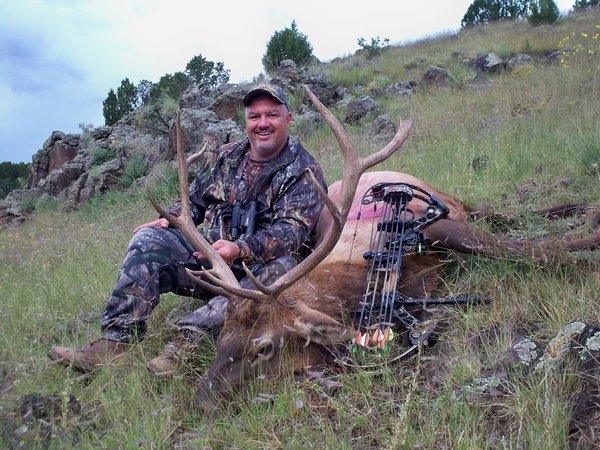 Don Ginnetti
Andy,
I'd like to thank you for an outstanding hunt this past year. After countless hours searching for an outfitter, it took Mike Voge and I only our first hour of our hunt to realize we were done searching for good. Nothing is more exciting than to have 4 bulls answer the first bugle of a hunt. We had many opportunities and saw plenty more elk than I could have imagined.
Camp was a treat. Your accommodations were first class and the meals were exceptional. Your team of guides, Herb, Anthony, and Tommy "Whiteman" were a blast to be around.
Shooting my 5x5 on day 3 and Mike shooting his 300+" 6x6 on the 4th day ended our hunts too early. If I can, I'll try to be more patient this coming year.
Thank you again for an incredible time and I look forward to Elk Season 2011.
Don Ginnetti
513-324-4943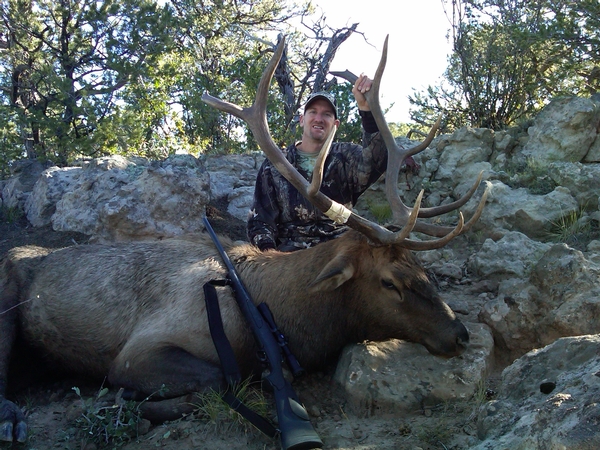 Roger Haire
I spent countless hours researching online, going to hunting shows, reading magazines, and speaking to friends who have hunted elk out West, and trying to figure out how to set this up. I did find out that setting up a hunt in the same year can be a bit challenging, but can be done. Especially if you make the right connection and ask the right questions. In speaking with Andy and his wife Vicki, both of them made things so much easier and they are wonderful folks to talk to. During my research I kept coming back to their website (H & A Outfitters in New Mexico) and something about it just made me feel good. Included on their website is a list of references of both successful and unsuccessful clients, contact information, past hunts, testimonials, recent pics, etc.. As I finished my research I started calling references, asking questions, and everything checked out. At this point Robbie and I had to make a decision and that decision was to go with Andy Salgado of H & A Outfitters.
We decided to put in the outfitters pool and back it up with a landowner permit to guarantee the hunt. We were lucky enough to draw the tag in the outfitter's pool. We could not believe this. This was a huge cost savings. Wow!!!
On day one of the hunt we saw several bulls and cows, but did not get close enough to work them in. Day two is when everything got crazy. We had bulls bugling everywhere. Our guide Anthony was busy calling and working bulls from all directions and all of sudden everything just happened at once. 3 big bulls came rushing in and we had to make decisions quickly. A nice 5x5 was the lead bull and he was coming quickly. Robbie, didn't have a shot, so I took it and connected. After we retrieved my bull, Robbie and Anthony took off after the rest of the herd cleared and caught back up to them. Robbie connected on a nice 6x6 bull moments later. Both bulls were very respectable and 2 hours after day break on day 2 we were tagged out.
We couldn't of asked for a better time or quality hunt. All the guides in camp were great, including the cook. Anthony (our guide), did an outstanding job, sharing past experiences and educating us in the field. Andy Salgado runs a first class operation and will do his best to make your dreams come true! These two hoosiers were very satisfied and left happy campers! We are forever grateful.
Roger Haire
(812) 584-2890
---
Send Us A Comment
To our past clients: We appreciate your comments and if you would, fill out the form with comments and a photo about your experience at H&A Outfitters, Inc.. Fields marked with * are required. Please enter the Name field how you want your name to read on our website (Examples: John Doe, J. Doe, John D., John Doe Corporation).