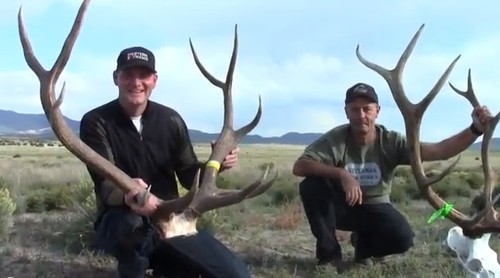 Ray Bunney and Jim Burnworth of Western Extreme reporting from New Mexico on their 2012 elk hunt in New Mexico with H&A Outfitters, Inc.
View the Quick Video
Jim - "Well Ray Bunney and Jim Burnworth reporting from New Mexico. Over the last 5 years we have been invited out here, we had no idea that there were this many bulls out here that were trophy quality. This is probably some of the best elk ground we have ever seen in our entire lives and we saw a bunch of big trophy class bulls over the last week and we were able to capitalize on a few of them with the bow. But guys, this is where the giants live. We saw lots of bulls that were over 350 inches out here and of a few of them that almost went 400 huh Ray?"

Ray - "Yeah. We definitely seen some 380 plus bulls this last week.

Jim - "Absolutely. We are going to be back, every single year. We have made this a destination for ourselves and with H&A Outfitters with Senora Darkhorn teaming up and working on all of the landowner permits that are here in New Mexico in Unit 15 the large bull units and a then teaming up and putting all of the infrastructure in place and the guides, the experienced guides you will be able to hunt these elk. This has gotta be one of the greatest places in all of North America to chase what we believe is the greatest animal God ever invented. An Elk."

Ray -"Keep Practicing."
Posted in: All News, Elk Hunting