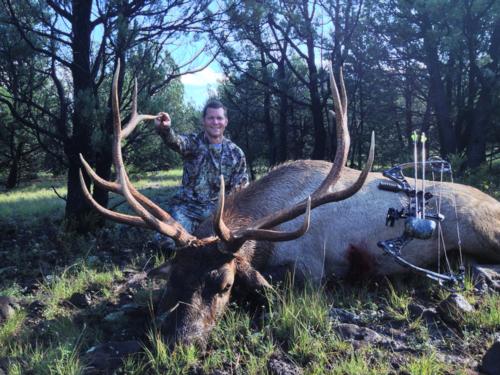 We won't forget 2013, the year of the 1,000 year floods! New Mexico has been in a drought for the past five years or possibly longer but this year the rains started in Southwest New Mexico towards the end of June and didn't stop until the end of September. The Gila Apache National Forest had over 20" of rain in that time period. I'm not complaining. Rain is a good thing here in New Mexico! Regardless of the weather, sunshine, rain or snow, H&A Outfitter's Inc. and their clients are still going hunting and making the best of it!
September 1st thru the 8th, 2013, the first New Mexico archery elk hunt. We were excited to have six clients at camp hunting with us. Four of them were repeat clients and the other two were first time clients. Me and the guides know that water holes produce more than 60% of our kills annually although with all the rain we were wondering if the bulls would still be hitting their favorite holes. We had a two day break with no rain and decided to sit two hunters at water holes. One of them killed a nice 6 x 6 Pope & Young bull. This would be the first kill of the year and it was September 4th. At that camp we ended up going 3 out of 6 and one other opportunity.
September 11th thru the 16th, 2013, the second archery elk hunt we had three repeat clients/friends at camp with us that week. We had the privilege of having one kill, 6 x 6 345" bull, one miss at a Gila monster and one wound (not mortal). We hunted in the rain, mud, sunshine, humidity and had a kick ass hunting experience! We learned a lot which will make us more deadly when luck and skill meet in the middle next time!
September 19 thru the 24th, 2013, the final archery elk hunt. H&A Outfitters, Inc. had the opportunity of taking three new clients on a elk hunt that they won't soon forget. On day one we brought a 7 x 7 340" bull back to camp. Day two we brought a 6 x 6 back to camp. Day six brings us to the very end of the hunt with the last hunter having had several opportunities up to this point and has one last encounter with only 20 minutes left of light. The set up works almost perfectly! The screaming 6 x 6 350" plus bull comes in head on to the hunter and only 10 feet away, the bull turns and walks slightly right of the hunter, which puts him downhill and 10 yards in front of the hunter. The bull stops, sensing something is wrong or possibly even getting our scent. He turns to run and the hunter draws his weapon and Andrew Jr. stops the bull with a cow call at 50 yards from the hunter. The hunter releases! The arrow is flying true only to be deflected five yards before hitting its mark. That's bow hunting! Monster bulls in New Mexico with H&A Outfitters, Inc. ! Until next time!
Adios,
Andy
Posted in: All News, Elk Hunting